Living lab
Social environment protection versus climate protection
Strategies for reconciling climate-friendly and socially acceptable neighbourhood development
The research and model project "Neighbourhood protection versus climate protection?" aims to develop innovative, scientifically based, implementable and neighbourhood-related strategies that can resolve the conflict of objectives in neighbourhood protection areas between social city and climate neutrality, i.e. energetic neighbourhood development, in a socially acceptable and CO2-reducing manner.
The project is divided into two phases, which prepare the complex matter in a constructive and formative manner and point out possible solutions. In cooperation with Berlin districts, science, building owners, residents, associations and other expert partners, as well as supporting civil society and professional actors, approaches will be developed step by step to develop cross-functional and socially acceptable climate protection measures in protected areas.
In phase one, innovative measures for concrete application in neighbourhood protection areas will be identified and developed in a participatory and co-creative process using the "Urban Design Thinking" method. The actors involved are supported in making an active, conflict-solving contribution to achieving climate protection goals. At the same time, in a kind of meta-study, measures, projects and ideas that directly or equivalently reduce CO2 emissions are quantitatively evaluated at neighbourhood level in terms of their impact on climate protection and put into relation with the effects on the protection of neighbourhoods.
In addition, the assessment provides a basis for a digital and near-real-time application for evaluation and monitoring, which can be used as a decision-making aid to support actors and further participation.
The result is a toolbox as a framework for action and orientation for districts, municipalities, property owners, tenants and the building industry.
The main objective of phase two will be to develop robust solution strategies for reconciling climate protection and protection of the neighbourhood at the neighbourhood and building level, as well as their possible financing, taking into account the existing funding framework.
The project "Neighbourhood protection versus climate protection?" meets a highly topical and sustainable development need and makes a significant model contribution with the collaborative development of innovative approaches to action, which in an integrated view necessarily go beyond the conflict-determining building renovation.
The project (AZ 35861), funded by the Deutsche Bundesstiftung Umwelt (DBU), was developed at BHROX bauhaus reuse. The new transdisciplinary centre and urban laboratory called BHROX bauhaus reuse on Ernst-Reuter-Platz in Berlin is available as a project workshop. The centre, managed by the project coordinator zukunftsgeraeusche GbR, is a cooperation with the district of Charlottenburg-Wilmersdorf and the TU Berlin (among others) and serves as an exchange platform between research, practice and citizen participation at the science location Campus Charlottenburg.
Thematic approaches:
#mileusprotection #climateprotection #CO2neutrality #SocialCity
Spatial approaches:
#neighbourhood #buildings #open spaces #milieu protection area #climate-neutral city
Methodological approaches:
#transdisciplinarity #urban-design-thinking #co-creativity #CO2-quarter balancing.
Partners / Alliances:
Zukunftsgeräusche, Insar Consult, Technische Universität Berlin – Fachgebiet Bestandsentwicklung und Erneuerung von Siedlungseinheiten, Technische Universität Berlin – Fachgebiet Bauphysik und Baukonstruktionen, Bezirksamt Charlottenburg-Wilmersdorf von Berlin – Abteilung Stadtentwicklung, Bauen und Umwelt, Bezirksamt Neukölln von Berlin – Abteilung Stadtentwicklung, Soziales und Bürgerdienste, Deutscher Verband für Wohnungswesen, Städtebau und Raumordnung e.V., Förderung durch die Deutsche Bundesstiftung Umwelt
Contact: Robert K. Huber, mvk(at)zukunftsgeraeusche.de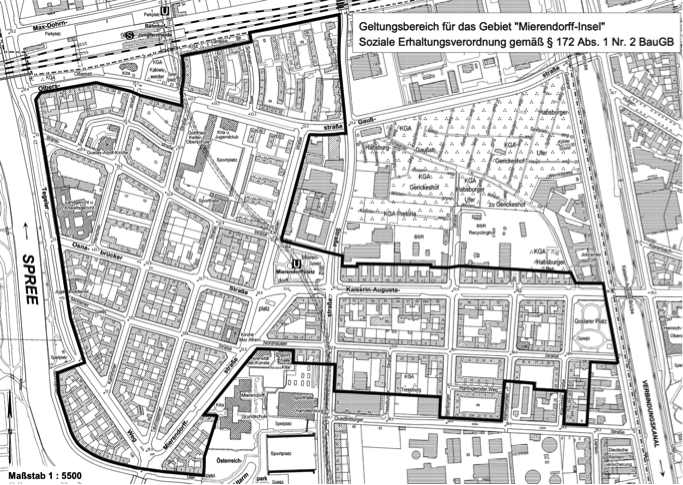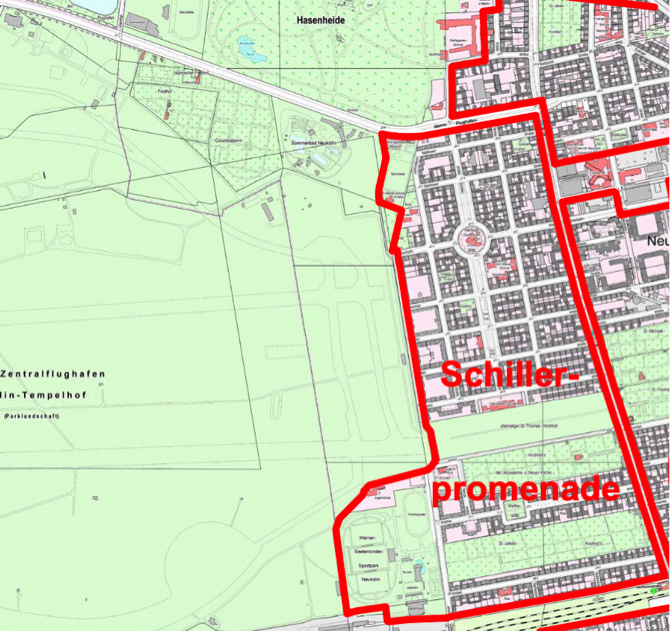 The project will be carried out jointly with local and higher-level actors in two reference neighbourhoods, Mierendorff Island in Berlin Charlottenburg and Schillerpromenade in Berlin Neukölln.
Sources: online maps of the district offices Charlottenburg-Wilmersdorf & Neukölln